Solar panels and solar installers:
Home
>
Installateur feedback
alfazon B.V.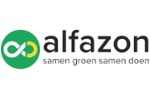 Pastoor Verhoevenstraat 9 A
5236 AZ, 's-Hertogenbosch
Experience rating

Customer feedback
Working Area
Get a free quote
Of bel ons: 0800 6123 303
Customer feedback about alfazon B.V. (5 / 5)

(based on 1 reviews)
Van Gils-Defilet - Gilze
-
19-03-21
Cor van Dartel is op locatie komen kijken, advies uitgebracht en al onze vragen beantwoord. Ook de schriftelijke communicatie ging goed. Op nieuwe vragen die we stelden kregen we vlot antwoord en als we - eigenwijs - iets wilden wat minder goed uitpakte werden we daar op een vriendelijke en kundige manier op gewezen. Op ons verzoek zullen de zonnepanelen na juni gelegd worden. We hebben er vertrouwen in dat dat goed zal gebeuren, gezien de reviews die we hebben gelezen over Alfazon.